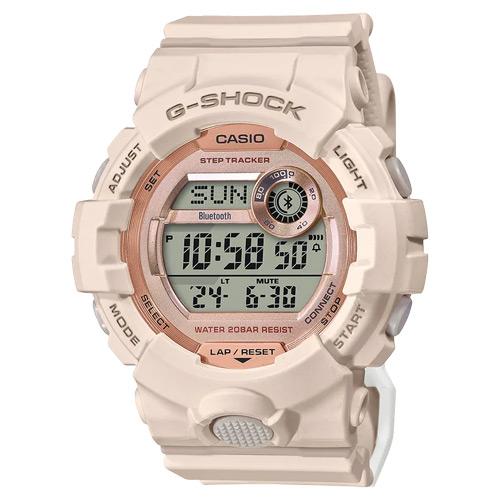 Introducing new compact G-SHOCK models that are great choices for women who prefer bulky G-SHOCK styling.

These models add a new selection of colors to the G-SHOCK Connected lineup of sports watches that make daily training more fun and effective. The size of the GMD-B800 case is approximately 3 mm smaller than the case of the popular G-SHOCK GBD-800, which makes it the perfect choice for those with smaller wrists and those who prefer a more compact watch. These new models come in neon colors that go well with today's trendy sportswear. A back protector protects against impact, while block coloring and new materials create designs with plenty of visual impact.

The watch can use Bluetooth® to link with the G-SHOCK Connected phone app to provide access to a number of functions that support workouts.

Daily health and fitness support functions include a 3-axis accelerometer that keeps track of step counts, a timer that lets you create up to 20 combinations of five timers each, memory for up to 200 lap records, and more. G-SHOCK Connected also makes it possible to maintain step count logs with five exercise intensity levels, calculate the calories you burn, specify a daily step target, create timer combinations and send them to the watch, store stopwatch measurement data, view data, and more. All of this combines to help you plan and record your workouts, making them more effective and enjoyable.

Other features include app-based auto time setting correction for more efficient timekeeping, and an Auto Double LED Light that facilitates workouts in areas where lighting is dim.

FINAL SALE.